Holiday Character Jars
"These characters were so fun to create, and are also customizable to what you have available at home!"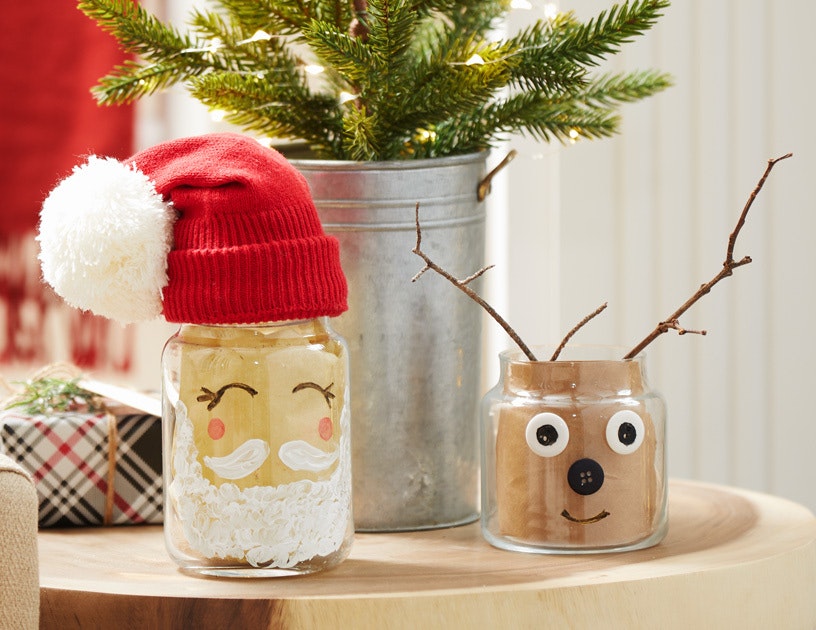 You will need:
• Empty Original Jar Candles
• White acrylic paint OR cotton balls and glue
• Dry erase markers in black and red
• Skin-toned tissue paper
• 1 red knit glove
• Rubber band
• Pom-pom
• Needle and thread
• Buttons or googly eyes
• Hot glue gun
• Brown paper bag
• Twigs
Here's how Lindsey designed them, in her own words:
Santa
I used white acrylic paint to paint on his beard and mustache. For a hair-like texture, I made circular strokes with a small stiff brush. If you don't have white paint on hand, glue cotton balls to the jar instead. Add eyes and rosy cheeks with dry erase markers. Next, line the jar with skin-toned tissue paper. For the hat, stuff the palm of a knit red glove with tissue, and cinch the fingers together with a rubber band. Finally, stitch the pom-pom to the top of the glove. Put the glove right onto the lid of the jar.
The Reindeer
Use hot glue to attach small black buttons to large white buttons for the eyes. Attach the eyes and a medium black button (for the nose) to the jar with hot glue. Draw a mouth with a black marker. Line the jar with a brown paper bag, then add twigs for antlers.
#UpcycleWithYC