Halloween Character Jars
Upcycle your finished candle jars into easy, light-up Halloween decorations! These fabulous and fun creations were made by prop and set stylist Lindsey M. from our own photo studio, who says, "I let the shape of the jars themselves determine the characters they would become."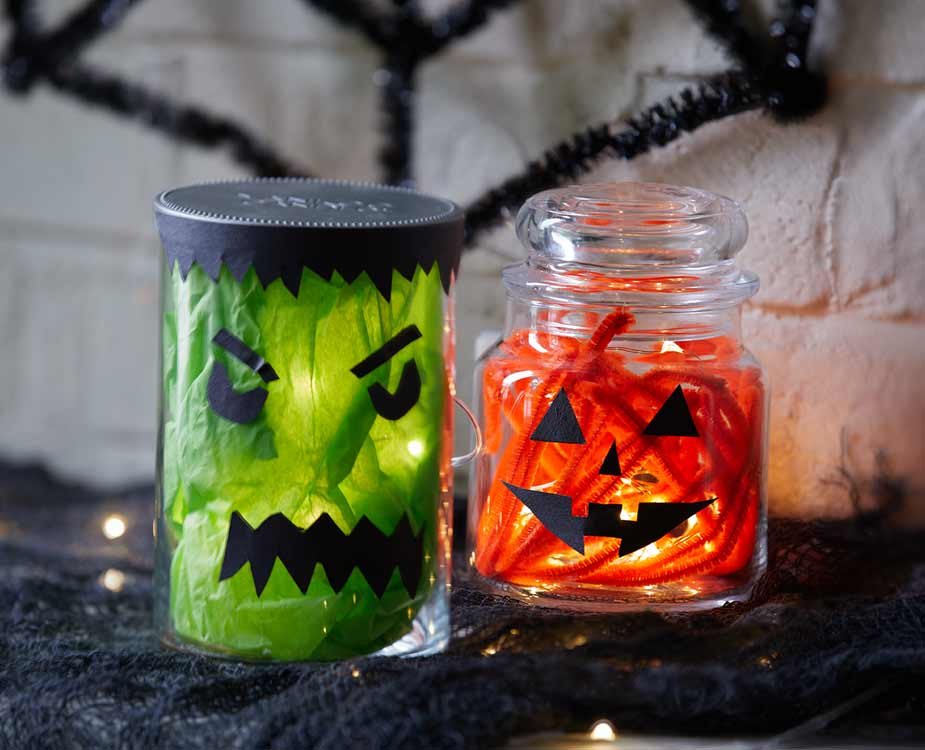 Here's how Lindsey designed them, in her own words:
Frankenstein's Monster
"This was my favorite one! I lined a Large Tumbler Candle jar with green tissue paper, placed battery-operated fairy lights inside, and glued on construction paper face shapes and hair. The hair is key in making him come to life — I added the hair piece to the rim of the lid for a seamless transition!"
Jack-O'-Lantern
"The Original Medium Jar Candle jar instantly took on the personality of a cute Jack-O'-Lantern. Orange pipe cleaners allow the fairy lights to shine through and gave me the color I wanted, and the lines of the cleaners mimic the shape and texture of a pumpkin. I glued the black construction paper eyes, mouth, and nose to the jar."
Ghost
"I used regular facial tissue, and it worked fabulously! I carefully lined the interior of an Original Large Jar Candle jar with tissue, added the fairy lights, and added the face using the same technique as the others: construction paper and glue!"
You can follow Lindsey's instructions or improvise to create your own custom character jars — it's all up to you. Have a happy and fragrance-filled Halloween!