Medium Square Candles
Activating this element will cause content on the page to be updated.
Filters
selection will refresh the page with new results
Price
selection will refresh the page with new results
product-list-page-filter
Earn $5 toward a future order by picking up an item in store!
After you pick up your order, you'll receive an email with a code to use on your next purchase.
Product Results
Showing 1 of 1 results
CLEARANCE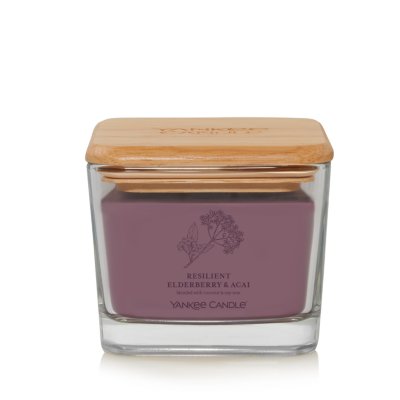 Resilient Elderberry & Acai
Resilient Elderberry & Acai
Well Living Medium Square Candle
This item is currently not available.
The selected quantity is currently not available.
Sale Price
$12.50
Strikethrough List Price

$25.00
Medium Square Candles
Perfectly Sized for Fragrance & Ambiance
Set the mood for renewal with perfectly sized Medium Square Candles from the Yankee Candle® Well Living Collection. This perfectly sized candle with three natural fiber wicks provides fragrance and ambiance for up to 30 hours — plenty of time to enjoy moments of mindfulness or connect with family while making Sunday breakfast, gathering for game night, or watching a movie together. This Medium Square Candle features a premium glass vessel and natural rubberwood lid that provides a decorative base while the candle is burning. In this size, you'll find all our wellness-focused fragrances in nature-inspired colors made with essential oils and blended with coconut and soy wax. They're ideal for a side table, nook, or combined with Large Square Candles for a dimensional look and intensified glow.
Fragrance For Wellbeing & Connection
Comforting Gourmands, Radiant Citrus, Balancing Woods — there are so many ways Medium Square Candles from the Well Living Collection can help to transform your space and encourage togetherness. When you find balance, you can focus on mindful living and experience more moments spent with family. The distinctive square glass of these candles, combined with the selection of wellness-inspired fragrances, provides the perfect way to set the tone for your home, whether it's relaxing, connecting, or uplifting the mood — all set the stage for moments well spent.