Medium Outdoor Candles
Filters
selection will refresh the page with new results
Special Offers
refinement Special Offers group
selection will refresh the page with new results
product-list-page-filter
Price
selection will refresh the page with new results
product-list-page-filter
Fragrance Type
refinement Fragrance Type group
selection will refresh the page with new results
product-list-page-filter
Product Results
Showing 1 of 1 results
BEST SELLER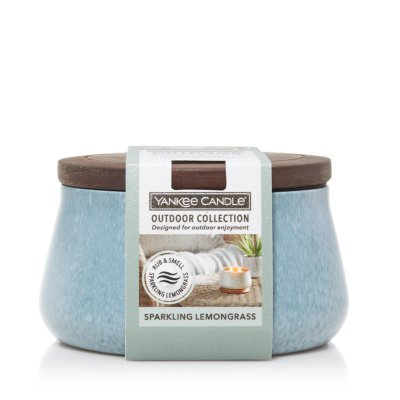 Sparkling Lemongrass
Sparkling Lemongrass
Medium Outdoor Candle
40% Off Most Full-Priced Yankee Candle Items
This item is currently not available.
The selected quantity is currently not available.
Sale Price
$12.60
Strikethrough List Price

$21.00
Medium Outdoor Candles
Evenings of Ambiance and Scent
Transform your outdoor space into an enchanting oasis with our Medium Outdoor Candles. Three natural fiber wicks and up to 30 hours of burn time provide the perfect ambiance for a relaxing outdoor gathering, and the wax blend is formulated with citronella, ideal for outdoors. The appeal of our Medium Outdoor Candles is undeniable, especially when it comes to adding relaxation and fragrance to your exterior living space. Choose your favorite scent – whether it's blooming florals, uplifting herbals, or serene natural-inspired scents of rain, woods, and lush fields – and transform your patio or porch with this perfectly sized scented candle designed for outdoor use.
Illuminate Your Outdoor Space
Medium Outdoor Candles are designed with outside enjoyment in mind. Select your favorite fragrance to illuminate a space, add to a romantic atmosphere, or enhance your garden or patio. Sit back and relax as these decorative vessels withstand the elements — their large wicks are created to stay lit in any outdoor space. And, because they are made with wax that has a higher melt point, they burn efficiently outdoors. Combine them in multiples or with other candles from the Outdoor Collection for a dimensional look and intensified glow.