Pre-Fragranced Reed Diffusers
Filters
selection will refresh the page with new results
Special Offers
refinement Special Offers group
selection will refresh the page with new results
product-list-page-filter
Price
selection will refresh the page with new results
product-list-page-filter
Fragrance Type
refinement Fragrance Type group
selection will refresh the page with new results
product-list-page-filter
Color
refinement Color group
selection will refresh the page with new results
product-list-page-filter
Product Results
Showing 1 of 1 results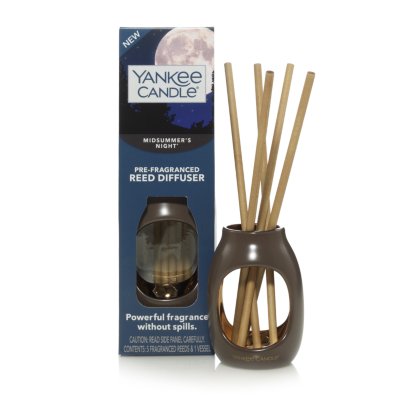 MidSummer's Night® with Metallic Vase
MidSummer's Night® with Metallic Vase
Pre-Fragranced Reed Diffusers
Clearance sale items do not qualify for other promotions or discounts.
This item is currently not available.
The selected quantity is currently not available.
Sale Price
$10.00
Strikethrough List Price

$25.00
Pre-Fragranced Reed Diffusers Suit Your Space
Want to blend room-filling fragrance with a dash of style? The first step is choosing the Pre-Fragranced Reed Diffuser that suits your space. Combining the just-right vase with the perfect scent means you'll be on your way to providing any room in your house with some of the highest fragrance intensity available from our home fragrance products. Vases are designed to hold Pre-Fragranced Reeds in the amount you prefer for your choice of intensity. You'll enjoy the minimalist style and ease of use — there's no wax or oil to add. Diffusers come with Pre-Fragranced Reeds in a scent-locking pouch that can be replenished easily with a new fragrance. You're on your way to enjoying stylish adjustable fragrance that suits your senses and your space!
A Vase with Style and Scent
Experiment with fragrance and décor. Pre-Fragranced Reed Diffusers are loved by decorators and those who are drawn to simplicity with a fondness for minimalism. These open-sided diffusers are designed to work well in any room, whether a personal space or an area designated for entertaining. Because you choose the number of Pre-Fragranced Reeds, the amount of intensity and scent is always yours to decide. Our metallic vase in ebony pairs well with the popular MidSummer's Night® fragrance. Or choose an earthy ceramic style to harmonize with Sage & Citrus for an invigorating, natural fragrance. A sleek, light-colored vase pairs as well with scents of clean cotton as it does with a scent that is beachy and tropical. Enjoy them for up to six weeks per reed, and experiment with as many combinations of Pre-Fragranced Reed Refills as you like — they store perfectly and maintain their scent until it's time to add more.