Gel Tins & Warmers
Filters
selection will refresh the page with new results
Special Offers
refinement Special Offers group
product-list-page-filter
Price
selection will refresh the page with new results
product-list-page-filter
Fragrance Type
refinement Fragrance Type group
selection will refresh the page with new results
product-list-page-filter
Product Results
Showing 1 of 1 results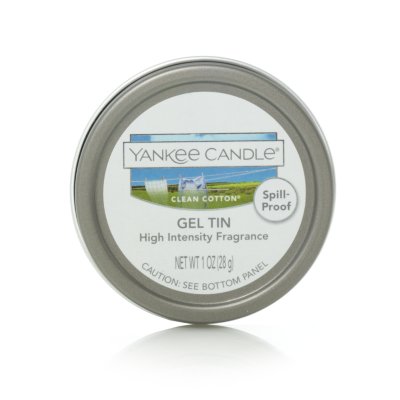 Clean Cotton®
Clean Cotton®
Spill-Proof Gel Tins
40% Off Most Full-Priced Yankee Candle Items
This item is currently not available.
The selected quantity is currently not available.
Gel Tin Warmers – Our Pick for Most Fragrant
Fragrance lovers seeking high-intensity fragrance will be captivated by Spill-Proof Gel Tins & Warmers, Yankee Candle's answer to worry-free fragrance that delivers our most powerful and welcoming aromas in a compact warmer. The Spill-Proof Gel Tin is filled with concentrated gel that remains solid when warmed, making it completely mess-free. Just place it in a warmer, turn it on, and enjoy your choice of fragrance. Ideal for a favorite scent, whether your day calls for Sun & Sand®, Warm Luxe Cashmere, or Crisp Campfire Apples. Enjoy these true-to-life scents with just a flick of the switch for up to 50 hours.
Make it Convenient with A Starter Kit
Start your powerful fragrance journey with a Gel Tin Warmer Starter Kit. It comes with an electric base and starter scent — you'll love its convenience. Then, choose other high-intensity fragrances in Spill-Proof Gel Tins to easily replace and refill your warmer with no hot wax and no worry. It's one of our favorite scent-dispensing solutions, and it comes with our pledge of guaranteed happiness. If you don't love it, we'll exchange it, simple as that.