Fragrance Spheres™
Activating this element will cause content on the page to be updated.
Filters
selection will refresh the page with new results
Price
selection will refresh the page with new results
product-list-page-filter
Earn $5 toward a future order by picking up an item in store!
After you pick up your order, you'll receive an email with a code to use on your next purchase.
Product Results
Showing 1 of 1 results
BEST SELLER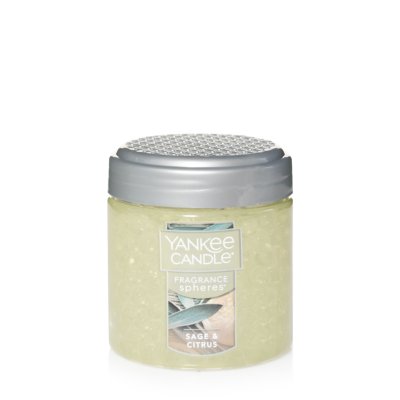 Sage & Citrus
Sage & Citrus
Fragrance Spheres™
This item is currently not available.
The selected quantity is currently not available.
Big Impact for Tiny Spaces
Fragrance Spheres™ are perfect for fragrance lovers who look to make the most of their small spaces. The tiny beads of Fragrance Spheres™ add fragrance to rooms such as closets, bathrooms, and dorms and can last up to 30 days, giving you the inviting and true-to-life fragrance you enjoy. Simply pull off the protective cover of the Fragrance Spheres™ container and let the fragrance-infused beads do the work! Need an extra boost of fragrance? Just simply pick up the jar and give it a gentle shake! When the beads shrink, it's time to replace it with even more scents you love.
Home Fragrance That Fits Your Life
Fragrance Spheres™ are part of our Home Fragrance collection of fresh, long-lasting, and true-to-life scents that fit into your lifestyle, mood, and all spaces of your home. With these innovative designs, our distinctive fragrances make our collection special and give fragrance lovers ease. Fragrances Spheres™ are the perfect choice because of their convenience and simplicity, providing small spaces in your home with a pleasant atmosphere.