Signature Large Tumbler Candles
Filters
selection will refresh the page with new results
Special Offers
refinement Special Offers group
product-list-page-filter
Fragrance Type
refinement Fragrance Type group
selection will refresh the page with new results
product-list-page-filter
Product Results
Showing 1 of 1 results
CLEARANCE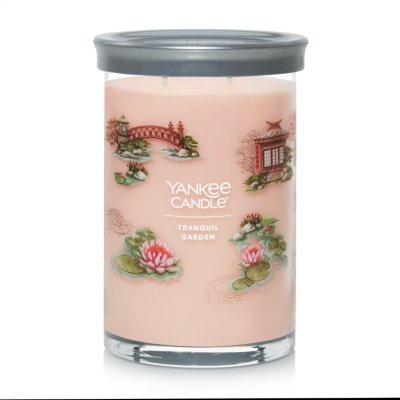 Tranquil Garden
Tranquil Garden
Yankee Candle® Signature Large Tumbler Candles
Clearance sale items do not qualify for other promotions or discounts.
This item is currently not available.
The selected quantity is currently not available.
Sale Price
$15.50
Strikethrough List Price

$31.00
Signature Large Tumbler Candles
Transform Your Space with Fragrance & Style
Whether you dream of beachy getaways, prefer fresh and bright florals, or crave sweet treats, Signature Large Tumbler Candles work perfectly to set the right mood. Loved for their long burn times and refreshing designs, Signature Large Tumbler Candles provide welcoming fragrance while complementing your décor. Enjoy their scent and style alone, or pair them with Signature Small Tumbler Candles for a unique candlescape that'll transform your space. Select something fruity, spicy, fresh and clean, floral, or woody — or let the season determine the scent. Whatever you choose, you'll love the true-to-life fragrances and soft luxurious glow these long-lasting candles provide.
Delight In a Favorite Fragrance
Signature Large Tumbler Candles are designed to seamlessly fit the style of any space. Their brushed tin lids fit neatly under each candle's base to serve as a coaster, and their two natural cotton wicks and premium soy-wax blend provide soft ambiance. Their slow, even burn means up to 100 hours of fragrance and glow. Collection-exclusive hand-illustrated labels complement the vibrant wax colors and enhance décor in any room. Ideal for large spaces and fragrance favorites, Signature Large Tumbler Candles are a delightful choice for making everyday moments special.